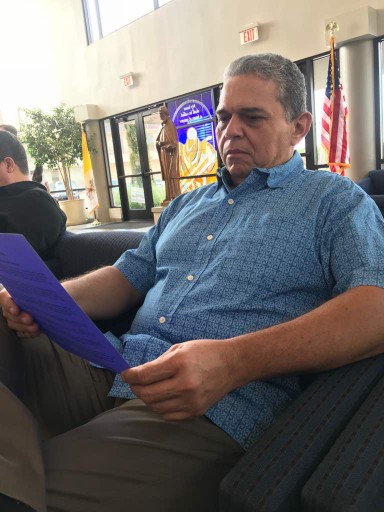 Richard Quintero Moran
Si el Miedo te Atrapa, AFRÓNTALO y Habla con Libertad
Hola!!
Soy Richard Quintero Morán, Esposo, Padre y Abuelo y además Periodista y Locutor venezolano, actualmente viviendo en Dallas, Texas...
La mayoría de personas con quienes trato cotidianamente, manifiestan un Temor a Hablar en Público y muchos se acercan para pedirme consejos o tips para enfrentar ese problema...
Por esa razón inicié un taller de oratoria donde comparto mi experiencia y las herramientas que a lo largo de los años he ido recopilando...
Actualmente estoy llevando ese proceso de Capacitación a las plataformas y recursos digitales, para ponerlo al servicio de la mayor cantidad de personas que necesiten Vencer el Miedo a Hablar en Público para conectar con su audiencia...
De mi experiencia profesional puedo contarte que durante casi 30 años me he desempeñado en varias emisoras de Radio y Televisión ocupando cargos como Locutor, Operador de Estudio, Productor, Presentador de TV (Ancla), Gerente de Operaciones y Director de Emisoras. 
Como Periodista he trabajado como corresponsal para la Red Nacional de Radio Fe y Alegría y diversas estaciones de radio en la región de Zulia, así como periódicos tales como La Verdad, El Regional, Versión Final y portales web de noticias. Fundador y Director de Contenidos en Perijaneros.com
También he ocupado cargos públicos como Director de Prensa de la Alcaldía Rosario de Perijá y Coordinador de Medios en la Oficina de Prensa de la Gobernación del Estado Zulia. 
Déjame saber ¿cómo puedo ayudarte? !envíame un mensaje, puedes contar conmigo!
Un Abrazo.
Claim Now!
Is this your business?
Claim listing is the best way to manage and protect your business.
Claim Now!