Here are this week's opportunities to stay informed 🧠
Reuters releases annual report on Social Media Posting and News Consumption Trends in 2023
The annual review of mass consumption trends by the Reuters Institute is out, and it's packed with interesting insights that can benefit social media marketers looking to connect better with their audiences. Conducted in collaboration with YouGov, this comprehensive report gathered responses from nearly 100,000 internet users across 52 countries. It delves into various aspects such as news engagement trends, views on algorithmic interference, left/right wing bias, and criticism of media outlets.
Now, hold on to your seat because this report is a massive 160 pages long! If you're up for some in-depth reading, you can download the full report here. But don't worry, in this post, we'll highlight some of the key findings for you.
Let's start with a fascinating revelation: social media has taken the lead as the go-to source for news content. It's now preferred over accessing news publisher websites and apps directly. Take a look at this chart! This trend is particularly prominent among younger users, like those under 24 (in the UK, for example), who heavily rely on social media platforms to stay informed rather than visiting publisher websites directly.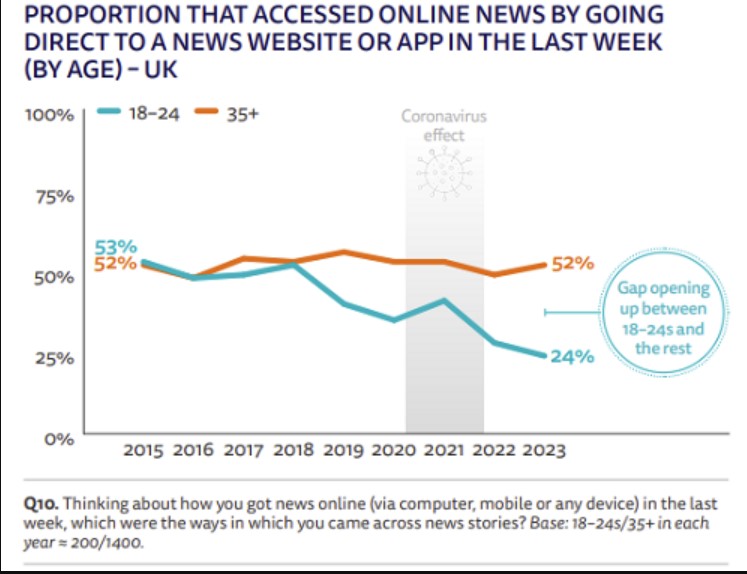 Exciting stuff, right? There's so much more to uncover in the report, so if you're ready to dive deeper, go ahead and grab the full version. It's definitely worth exploring to gain valuable insights into the ever-evolving landscape of news consumption and social media.